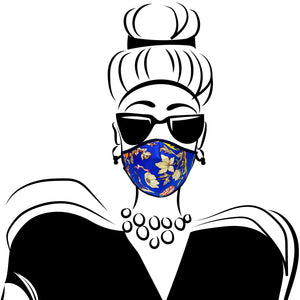 TARRAGONA Face Mask
Sale price Price $175.00 Regular price Unit price / per
TARRAGONA face mask in royal made with an outer layer of authenticated Hermes silk over a PES membrane layer. The mask is antibacterial, anti-fungal, water repellent and breathable. It is designed to fit comfortably and provide a basic level of protection and a significant amount of style. It can be hand-washed and line-dried.
Respoke was conceived by best-selling author Michael Tonello, whose memoir, Bringing Home the Birkin, recounts the highlights of his years as a reseller of all things Hermès. His love affair with espadrilles began shortly after he settled in Barcelona. It didn't take long for him to reimagine his favorite new footwear made of luxurious iconic silk scarves rather than utilitarian cotton twill.

The vision comes to life in the La Rioja region of Spain, where craftspeople in mountain villages continue the centuries old tradition of making espadrilles by hand. They also make some mighty-fine wine.
Respoke upcycles existing scarves to give them new life and purpose, while minimizing waste. Beyond acquiring and authenticating the most beautiful scarves from iconic design houses, we use natural fibers and materials that are environmentally friendly for the structure of our products. We don't use leather in our production. Respoke's Spanish craftspeople earn a fair wage in family-owned workshops, passing along their knowledge to future generations. We realize that these are small gestures, but we're committed to building our business in an environmentally friendly and sustainable way. 
The success of Respoke's signature product has led to thoughtful product extensions and collaborations. The ideas come from personal likes, (bucket hats), to unexpected necessities (face masks). We never quite know where inspiration will take us but we're hoping it involves luxurious unique travel destinations. While our luxury espadrilles (classic, mule and wedge) began as tropical resort wear, they and our other products have transcended beyond resort gates into the world of stylish upscale living.
Respoke is not affiliated with the brands whose silk we repurpose into our products.